KYC Compliance
made fast, secure
and systematic
Streamline your compliance process with Creditro Comply. Automated KYC & AML Platform that secures compliance, ensures security, and combats fraud, bankruptcy and money laundering.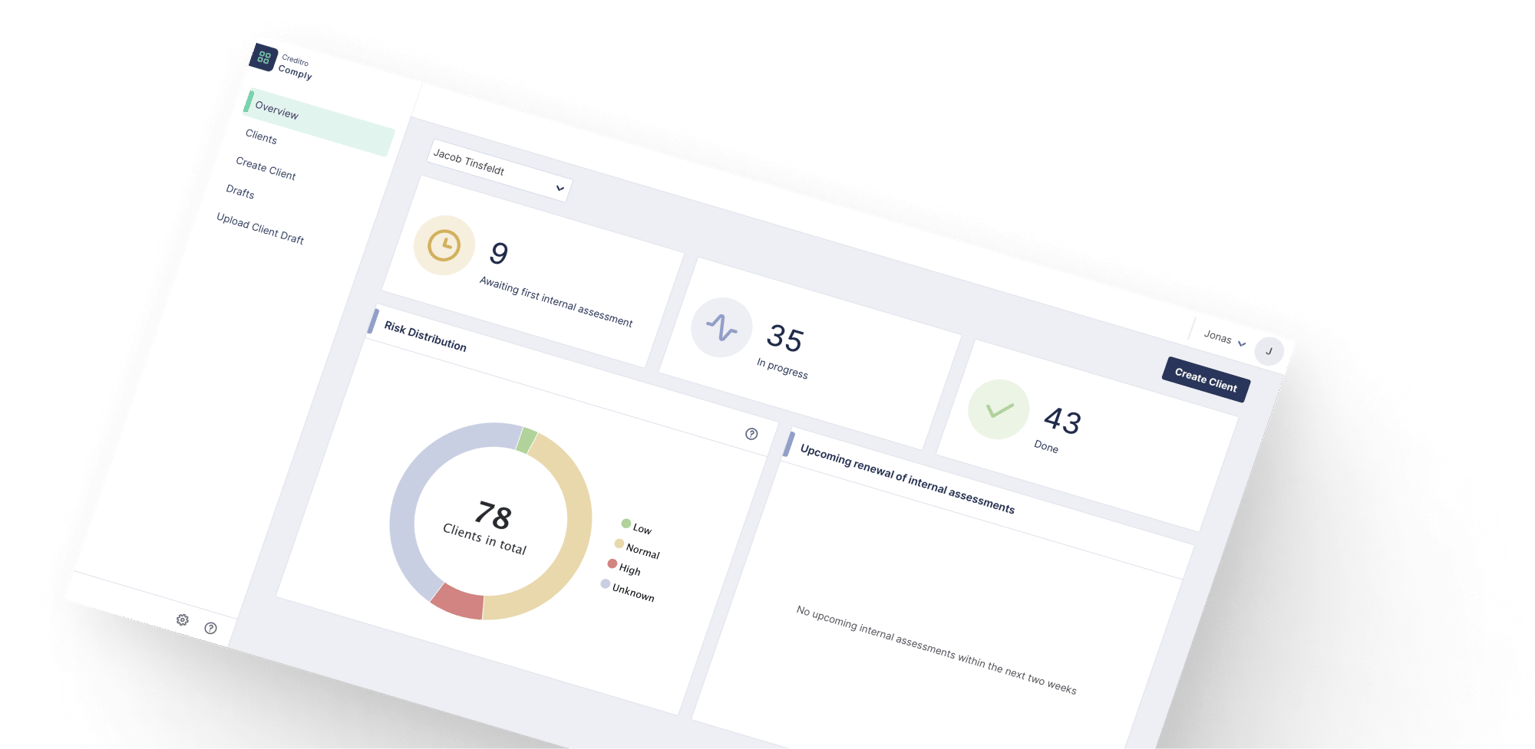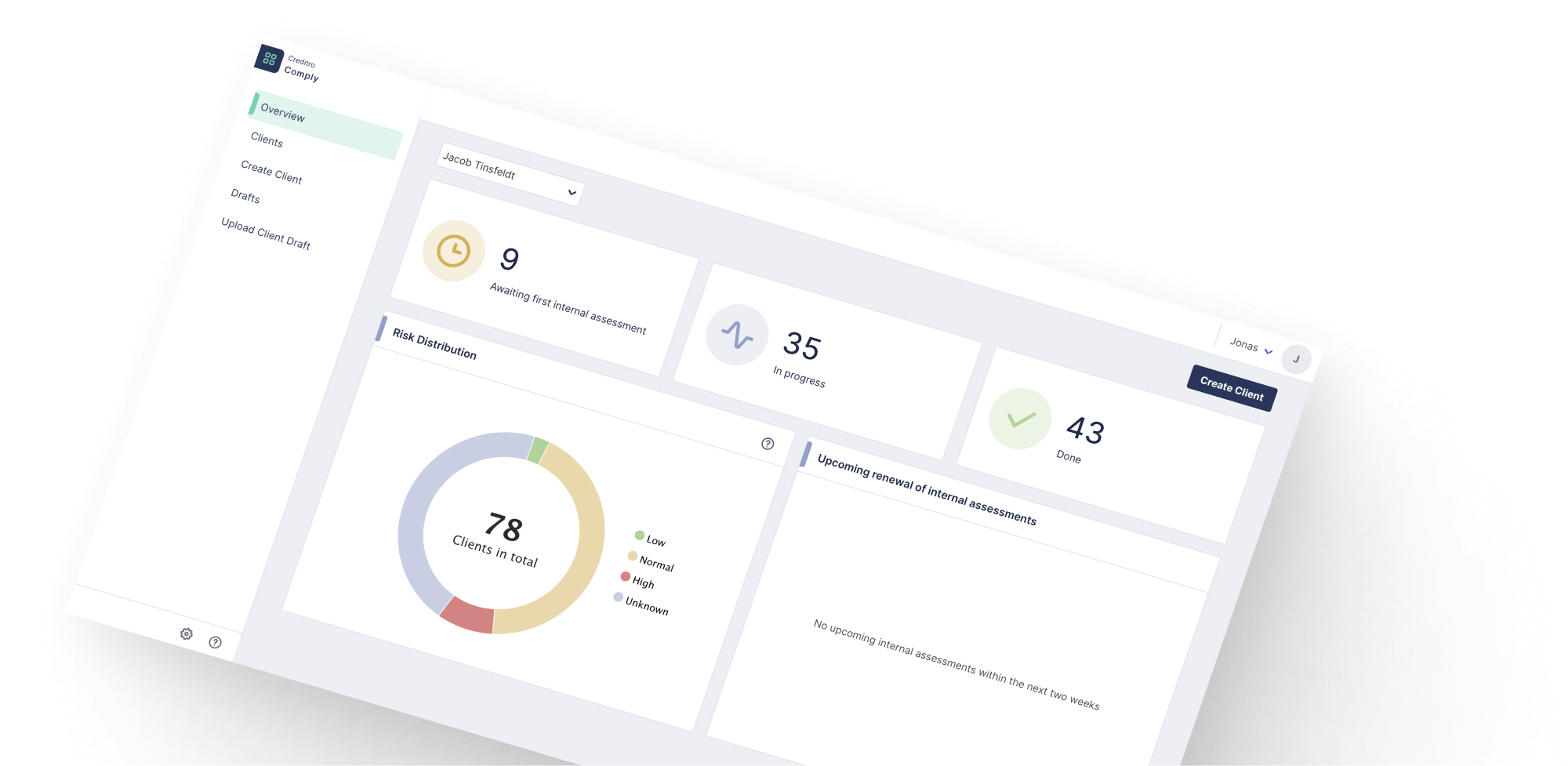 Video walkthrough
See How Creditro Comply Works



Replace manual unsecure and time-consuming information searching, gathering and follow up. Transform your KYC process with Creditro Comply's automated processes and dynamic questionnaires.

See for yourself, how we make it simple and easy both you and your clients.
Get all the required information in just a matter of minutes
Achieve KYC Compliance
with 4 Easy Steps
Bring a new customer on board, by choosing their customer type and service, and enter their master data.
Collection of information
Your customer submits answers to a dynamic questionnaire and their ID documentation.
Creditro Comply reminds them if they are missing information, and always ensures that their data is secure.
Our system provides an indicative risk assessment, which helps to identify and warn about potential risks such as fraud, terror financing or bankruptcy. At the end, you must set a final self-assessment.
You have the opportunity to ask follow-up questions to your customers, and continuously renew the information. We ensure that all data is updated in real time.
Creditro Comply with ease and security. Receive necessary data, meet AML-legislation, and combat fraud with our real-time cloud-based technology.
Save time with Creditro Comply's automation of KYC processes. An average check takes only 5 minutes, giving you more time for your customers.
Simplify your KYC & AML compliance process with our user-friendly platform. User-friendly journey, one dashboard, live support, and integrations with numerous solutions.
Integrations
Seamless integration
with other systems

Our platform offers seamless API integration, enabling effortless incorporation into your existing systems.
How Creditro Comply can
optimize your workflow

Efficient and secure, catering to all your KYC requirements. We provide guidance to both you and your clients throughout the process of collecting and submitting the necessary information.
Full overview in an instant
Customer Due Diligence (KYC/AML) in just one platform. Automatically document all of your actions and stay up-to-date on onboarding tasks, allowing you to work more efficiently.
We securely store records of active and completed client relationships in compliance with GDPR regulations, with the utmost priority given to confidentiality.
Consolidate data collection and due diligence workflow systematically in a single system. The system automatically documents and generates an audit-proof report for your convenience.
Enable your customers to effortlessly provide their information in just a matter of minutes. This will result in obtaining a complete understanding of your customer, leading to reduced client outreach and faster onboarding.
Ongoing credit and risk assessments, as well as real-time screening of global watchlists, PEPs, and adverse media. Receive immediate notifications if there are changes in your customers' risk profiles.
The platform allows you to customize the information gathered to comply with industry-specific regulations. This enables you to specify the precise data your team needs to collect during KYC processes.
Embrace our KYC technology and stay
ahead of the game
Save time on demanding KYC/AML processes. Book a demo where we go through our solution based on your company's needs.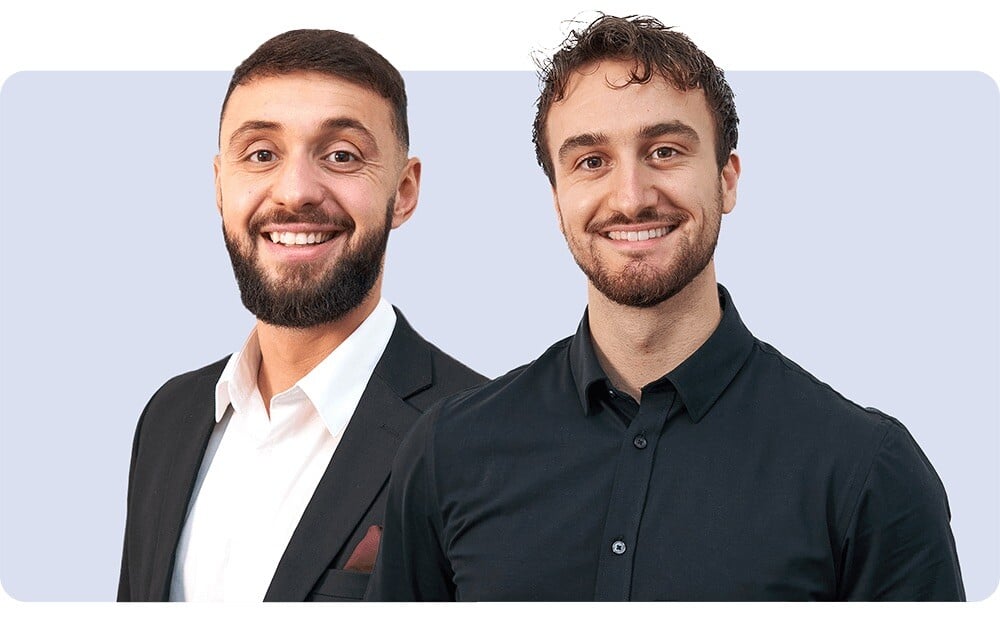 What Our Customers Says
Trust in Creditro's expertise to review, onboard, and monitor customers, with countless large corporations already relying on our platform for streamlining their KYC processes.
What is KYC?
KYC stands for "Know Your Customer" and is part of the Money Laundering Act. The Money Laundering Act is, in its simplicity, about reducing economic crime and money laundering. KYC is a crucial concept here. It is a requirement that companies subject to the Money Laundering Act must get to know their customers to avoid everything from money laundering to you as a company not doing business with criminals.
The concept includes that you can document that you know your customer; This includes, among other things, control of identity and financial activities and identifying the risk posed by individual customers.
When you establish an effective KYC process, it helps to comply with the Money Laundering Act and to be able to secure an effective business model in your organization.
Read our article What is KYC? and quiz your colleagues.
What is KYB?
KYB stands for "Know Your Business." The KYB process is not much different from KYC. The difference, however, is that KYB is exclusively about customer knowledge of legal entities, colloquially "companies or organizations."
For companies in the financial sector, there are special requirements for KYB. For example, banks and audit firms must document their customers' identities, know the business scope and activities, and check where the funds for the company come from.
KYB at a company is a framework for which controls must be carried out to minimize the risks of, among other things, money laundering and financial crime. When you as a company carry out a KYB, you not only stay within the framework of the law but also help yourself to inspection reports. Through Creditro Comply, we make it easier for companies to keep track of customer documentation and ensure that all checks and workflows are followed.
In this way, we make it both time-saving for the companies to choose us and make the documentation work more efficiently to show that you are compliant with the requirements for KYB.
Learn more about KYB in this article: What is KYB?
What is the difference between AML and KYC?
KYC and AML are terms used in the financial sector regarding money laundering. However, the words have very different meanings and should not be confused.
AML means "Anti-Money Laundering". The term AML refers to i.e. laws, regulations, and directives that help to combat economic crime.
KYC means "Know Your Customer". This term characterizes the process when companies want to verify the identity and business scope of their potential or current customers.
The KYC process is one of the requirements set by the AML legislation.
Learn more about the difference in the article: The difference between AML and KYC?